Member of Scientific Committees of different international events.
Last three years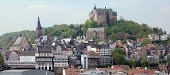 REHE2017. 12th International Conference on Relativistic Effects in Heavy Element Chemistry and Physics. Marburg, Germany. September 2017
Member Organizing Committee and Executive Committee Symposium Bioeconomía Región NEA. Resistencia. October 2016.
Member Organizing Committee (UNNE, CCT Nordeste and INTA Corrientes) Seminar Plan Belgrano. Resistencia. June 2016.
Seminar in University Austral 2015
QUITE
L2015. Congress of Theoretical Chemists of Latin Expression. Torino, Italy. July 2015
WATOC2014. Triennial Congress of the World Association of Theoretical and Computational Chemists. Santiago de Chile. October 2014
REHE2014. Congress bi or trianual. 11th International Conference on Relativistic Effects in Heavy Element Chemistry and Physics. Smolenice, Slovakia. October 2014